In this new year, many company owners and marketers must think of how they can make their businesses more successful. It is also essential to find a way to leverage their social media feeds more efficiently.
Earlier, companies were able to manage social media as a second-thought, or you can say an additional marketing media. But now, social media platforms are at the most top, where all business holds an opportunity to continuously prove its value, and bolster its voice.
Social media networks are robust and the go-to platforms where customers can ask questions or put queries, offer awards and air complaints. Not a single business can overlook the importance of its social presence because it impacts how individuals recognise its brand.
Hence, what can you do to bolster your brand's success through social media in 2019?
Well, I usually get cautious concerning forming social media projections because the standard social strategy is different for each business, though, there are few online marketing trends that are worth examining as you appraise which techniques will assist to expand your business.
1. The rising importance of branding-
Especially, for start-ups and small businesses, establishing a genuine, human face to your brand name helps you in building loyalty and trust. A brand that is likeable, and consists of a human component, usually earn more faith and trust, this trust is vital for building and maintaining good relationships in the market.
One approach to refine a brand is promoting the personal brand of the company owner. This method has turned a staple for various industries, as described by guest blogging, webinar presentations, and other publicity events.
By allowing your audiences to know the expertise of company activity, a business can extend its brand status. It is expected that companies which embrace the in 2019 will hold a well-defined power across companies that stay behind their logo.2
2. Voice Search-
Voice Search is a Google product that enables users to utilise Google Search simply by talking/speaking on a mobile phone speaker or computer, i.e. you can search for data info easily by speaking and Google will display the required information on the device.
Thus, this voice search by Google is also most in trending nowadays.
Source: latam
3. Making an SEO impact using long-form content-
As word count is not the single element that can produce an impact how prominently an article will look on search engine outcomes pages, SEO experts accept that long-form content can provide you with an advantage.
However, Google does not penalize blog posts if in case they fail to reach a specific word count. So, businesses can add a high-quality article with 1,500 words that will likely exceed a high-quality article by 500 words.
Well, it is expected to see more company blogs adopting long-form content, and including it into their content plans. Hence, companies that have found they aren't gaining SEO traction with small or short posts may need to "go long" and add more comprehensive articles.
Load it with helpful information and insight, to attract both readers, as well as Google, giving a reason to outrank them more fairly
4. Personalized marketing speedup-
With more companies delving into their data and also applying it to produce customized marketing operations which can target individuals' attention at various points in the buyer's survey, the burden is on.
Customers demand brands to custom exclusive offers and discounts to their demands and needs. To support that expectation, companies will need to consider targeted promotion campaigns on social media platforms.
5. Video content-
Along with our smartphones to laptops, video content has driven over our screens. In fact, as per research performed by experts, 75% of what we spend online will soon be converted into video content.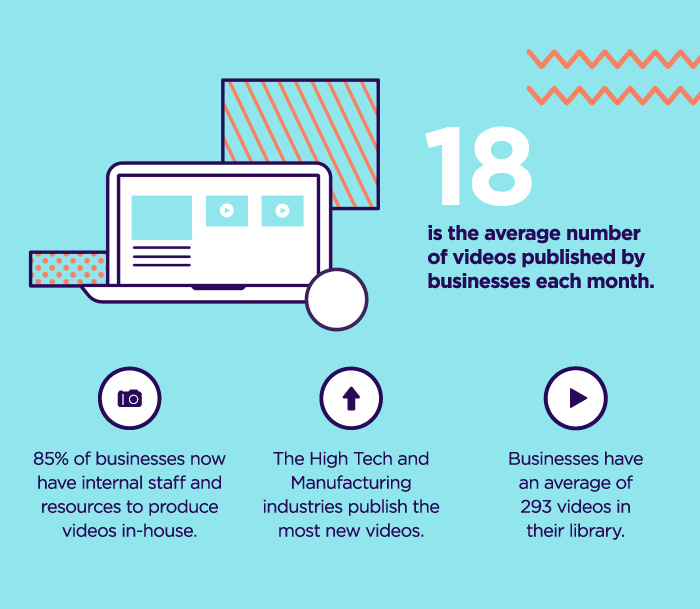 Source: animatron
Experts say that video has helped enhance user knowledge of their particular product and service, and 70% showed that it has supported and boost web traffic as well as sales.
Live-streaming will maintain its appearance as a compelling way to engage the audience on social media. By 2020, 85% of internet traffic is assumed to obtain video content. Video provides companies with an opportunity to present not only what the company do but also "who" they are.
To conclude-
The one trend you can ever include on renovation year after year is that businesses must, to some point, coordinate their social media strategy to gain wider awareness, and enhance engagement with customers.
Thus, the above discussed are the trends that are in demand this year, i.e., in 2019 from my point of view. If you have suggestions or want to add more points to this article, feel free to drop it in the comment box.
---
Author Bio: Daniel Dixon is a SEO consultant at TechTIQ Solutions, a mobile app development company in London. Daniel is passionate about building effective outsourced product development teams that build game-changing solutions.